Netflix has undoubtedly become an integral part of our modern lives. More than 200 million subscribers enjoy watching their favorite TV shows and movies on Netflix on a regular basis. Netflix certainly is the modern version of TV. You can watch the latest episodes of your favorite show at any time or just chill with one of your old favorites for a cozy day in.
Top 5 Netflix Hacks: How to Change Your Region & More
Those days have, unfortunately, increased over the last year. A life without Netflix wouldn't be imaginable during times of a pandemic. But did you know you can get more out of Netflix? Learn more about the top five Netflix hacks, such as change Netflix region, to level up your daily binge-experience. 
Access the US library
If you're not from the US, you don't have access to the current US library of Netflix. Wherever you are in the world, each country has its own Netflix library. If you are from the UK, for example, your Netflix library offers you different content than the US one. That means you may not have the latest episodes of your new shows directly available to watch. 
Be On The Lookout For Releases Outside Your Region
You'll have to wait until Netflix makes it available in the library of your region. Furthermore, each region's library has got different contents. It's rather easy to change your Netflix region, though. You'll only require a VPN service that can bypass Netflix's geoblocks. Within five minutes, you can change your region and view the content of Netflix libraries from all regions. You'll only have to switch the country your VPN runs you by and there you go. Just like magic, you can watch the entire US library or see what's in store in other countries. When in doubt, change Netflix region, you never know what gems you will find.
Filter your search with genre codes
Did you know that Netflix organizes all categories in certain codes? Netflix certainly has a good search bar, but you don't necessarily get what you're looking for without genre codes. Genre codes allow you to filter those categories more precisely. You could consider it as a hack for an advanced search that's not included in the Netflix search.
Find movies and shows that fall into the exact subcategory such as alien sci-fi, Italian drama, foreign sci-fi, and so on. Netflix genre codes are easy to find with one simple internet search. Print out the codes and keep them nearby the device on which you're streaming Netflix. Applying genre codes also works if you change the Netflix region to offer you broader content to watch.
Watch Netflix with your friends
Are you alone at home and looking for an alternative way to watch a movie with your friends? If you wanted to, you could run Skype or FaceTime in the background, but Netflix Party as a Chrome extension or the platform Kast are more effective alternatives. Kast allows you to open a shared window all of you can see while you're chatting. Via Netflix Party, you share a unique link to your friends to invite them to your binge-watching party.
Once everyone has joined, there appears a chat sidebar and you can chat as you watch the movie together. It's perfect especially if you're a regular streamer and used to have your TV show evenings with your friends. If you're all curious about the latest episode of Legacies, simply change Netflix region and watch it together with your friends.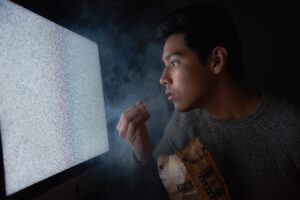 Keep buffering at bay
Yes, we've all been there…. You're watching an extremely amazing movie and of a sudden the buffering sets ist. The constant buffering keeps you from enjoying your favorite movie with all those sudden pauses. If you're lucky, it'll stop after a few seconds. However, if you're unlucky, the buffering lasts for a couple of minutes or returns over and over again.  It's the worst that can happen during a suspenseful scene and ruins every movie.
Don't Lose Your Cool, And Change Netflix Region
You're just sitting there and pulling your hair. Fortunately, there's a way to stop the buffering. Open a hidden menu as you hold down Ctrl+Shift+Opt/Alt+S. The secret menu offers different streaming options as well as buffering fixes. If you're using a Mac, use Shift + Option + Click to access the secret menu.
If you're on Apple TV or another device, you'll find an option to adjust the playback setting in your account settings. Switch to 'low' or 'auto' to experience as little buffering as possible also after you changed your Netflix reason. Another way to reduce buffering would be to make sure your internet connection is optimized for your best streaming experience. But sometimes, we don't have the option to switch to a different broadband tariff.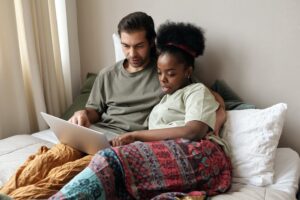 Share your account
You can share your account with your friends – more or less. A simple Netflix account allows you to set up different profiles. By setting up several profiles, you can share your account with a friend who may not have the funds to squeeze out an additional subscription fee. Or you can create a mini-community account and share the monthly fees with your friends. In that manner, everyone gets a piece of the big cake. Creating different profiles also allows you to change Netflix region. Netflix will automatically know from which geological location someone logs into the account and thus adjust the available library. Even if your friend was currently overseas and wanted to see the latest episode of his favorite show. However, also he or she can override the geoblocks with a VPN in no time.
A VPN Can Be Your Best Friend
The VPN always has to run via the device you use to log into your Netflix account. Unfortunately, it doesn't suffice to change the Netflix region on your device and set up other profiles in the same go. By sharing your account you can suggest new TV shows and movies to your friends, too!
Don't forget that you can download any TV show and movie. Unfortunately, that option is only available on tablets or mobiles and has only been made available rather recently. You can watch the latest content on the go and avoid using up your mobile data.