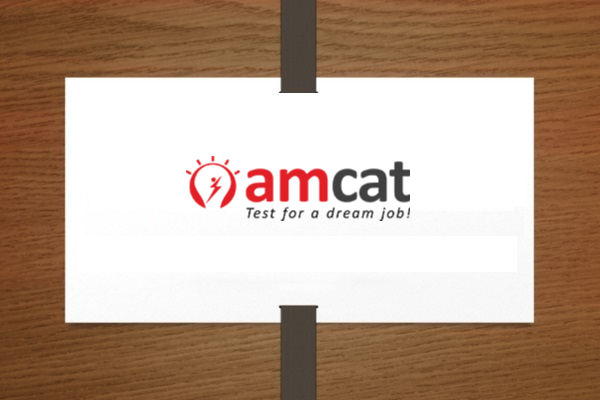 AMCAT stands for Aspiring Minds Computer Adaptive Test is a competitive exam that defines the candidate's core skills of respective core subjects, Reasoning, English, and Aptitude skills. All candidates who completed their graduation can apply for AMCAT.
AMCAT Exam preparation and syllabus 2020
Based on the candidates' AMCAT score many companies are hiring their employees. The technical syllabus will be different for candidates with different educational backgrounds.
After introducing AMCAT the job searching efforts of students and the recruitment process of corporate organizations has been reduced. This has brought recruiters and job aspirants under one umbrella. This article helps aspirants to know about AMCAT Exam preparation and its syllabus.
Eligibility criteria for AMCAT EXAM
Anyone with the below listed educational background is eligible for writing the AMCAT exam.
Candidates who hold engineering degrees or master's degrees and students pursuing the final semester of graduation can apply for the AMCAT exam.
Candidates with an MBA background or currently pursuing the final year of MBA are eligible to apply for AMCAT.
AMCAT Exam syllabus 2020
AMCAT exam comprises various modules from which aspirants can select their respective subjects according to their educational background. Before going through the detailed AMCAT exam syllabus check the exam pattern and module wise weightage here.
AMCAT Exam pattern
| | |
| --- | --- |
| Module | Marks |
| English Comprehensive | 900 |
| Quantitative Ability | 900 |
| Reasoning | 900 |
| Technical module | 900 |
| Total | 3600 |
In this syllabus of AMCAT three subjects are mandatory and common for every AMCAT aspirant. THE technical AMCAT syllabus may vary for different aspirants depending on their educational background. The detailed AMCAT Exam syllabus for Technical and Non-Technical subjects is provided below.
Non-Technical and Mandatory subjects:
English Comprehension, Quantitative Ability, and Reasoning are compulsory common subjects for every aspirant.
Also read : Byjus  in fact, alter the definition of learning Byju's App Download for PC and iOS Smartphone's or Mobiles and study like you've never learned before Byju's App Download.
1.English Comprehension (900 marks)
Total number of questions: 25
Duration for this section: 25 minutes
Verbal ability questions will be there in this section. The practice below mentioned types of verbal ability questions to qualify this module of the AMCAT Exam.
Antonyms
Synonyms
Error correction
Error identification
Fill in the blanks
Ordering sentences
Reading Comprehension
2.Quantitative Ability (900 marks)
Total number of questions: 25 for Engineering graduates/
                                                   16 for MBA and other graduates.
Duration for this section: 35 min for Engineering graduates/
                                               16 min for MBA and others.
Quantitative Ability questions syllabus is provided below, practice these questions for cracking this module of the AMCAT Exam.
Basic Algebra
Decimals and Fractions
LCM and HCF
Problems on Numbers
Time and Distance
Profit and Loss
Percentages
Age relations
Mixtures
Pipes and Cisterns
Permutations and Combinations
Logarithms
General Math's
3.Logical Ability/Reasoning (900 marks)
Total number of questions: 24
Duration for this section: 35 min
For Reasoning related syllabus of AMCAT exam practice below-mentioned topics.
Coding-Decoding
Blood relations
Direction Sense Test
Statements and Conclusion
Classification
Number Series
Analogy
Critical Reasoning
Technical subjects:
4.Aspiring Minds Personality Inventory AMPI (900 marks)
Total number of questions: 80
Duration for this section: 20 min
Extraversion
Conscientiousness
Neuroticism
Openness to Experience
Agreeableness.
The core subject's syllabus for individual candidates with different educational backgrounds is provided here.
Electronics and Communications (ECE):
Analog Electronics
Digital Electronics
Computer science (CSE/IT):
Structure and constructs of Computer Programs
Data-structures and Basics Algorithms
Object-Oriented Programming Concepts
Computer Literacy:
Hardware Usage and Organization
Operating System Usage and Concepts
Basic Software and Internet
Mechanical Engineering:
Thermodynamics
Strength of Materials
Fluid Mechanics
Design of Machines
Refrigeration and Air Conditioning
Production Management
Civil Engineering:
Building Materials and Construction
Surveying
Applied Mechanics
Strength of Materials
Hydraulics
Wastewater and Supply Engineering
Soil Mechanics
Concrete Technology
R.C.C Structure Design
Steel Structure Design
Irrigation
Highway Engineering
AMCAT Exam preparation syllabus 2020
It is suggested to prepare for the AMCAT exam during your final semester. Because you will have a better grip on your core subjects which helps to crack the Technical part of the AMCAT exam. Focus on Non-Technical parts of the exam and practice more as this is new to students.
Apply for the upcoming AMCAT Exam schedule as early as possible and start preparation. Keep an eye on AMCAT site updates every day. Check the AMCAT Exam syllabus immediately after applying and collect the required study material according to the syllabus.
Prepare a timetable for AMCAT Exam and allocate time for a number of revisions. Collect previous years AMCAT Exam papers for practice and if possible, practice through online mock tests which can increase your confidence levels.
Organizations that recruit through AMCAT
Most of the private organizations started recruiting candidates through AMCAT EXAM scores. In the past companies used to recruit through their own recruitment process that includes a written test as a first round of selection.
This process was time taking for companies and preparing a written test paper at every time of recruitment is not so easy. AMCAT made this easy by organizing common tests for candidates and helping private organizations to escape from conducting written tests.
AMCAT Exam defines your score or rank based on which below listed organizations filter candidates according to their requirements.
Banking Institutions.
Financial Institutions.
Automobile Companies.
IT Companies.
Telecommunication Companies.
Corporate Companies.
Hotels.
IT Product Companies & many other Companies.
Conclusion
The main reason behind considering Aspiring Minds Computer Adaptive Test (AMCAT) score for recruitment is, it gives the level of new graduates skills like aptitude, reasoning, and technical skills.
Technical experts from the organizations analyze candidates' AMCAT score in every Module and filter candidates for further rounds of interview. Qualifying AMCAT doesn't mean that candidate is selected for the job.
But based on AMCAT score one can get interviews scheduled with some best organizations, where they need to perform well in the remaining interview rounds.